A new way to study the Bible with usefulbible.com
For the last ten years, usefulbible.com has been providing verse-by-verse Bible commentaries and studies covering complete Bible books, that you can study online, download, or even print out for your own use. Increasingly, our readers have been requesting the opportunity to study our work in printed form, as a paperback book that they can study with their Bible, and free from the distractions and temptations that come with Internet use.
So now, we are delighted to announce that our new book is available for sale: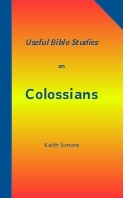 "Useful Bible Studies on Colossians" contains the complete series of 80 study articles in our Colossians series, just as they appear on the Internet, in clear, readable print. This is a slim paperback, generously laid out, with each article on a separate page.
It is ideal for personal study, or as a very special gift to someone who desires to grow in their understanding of the Bible. Available to buy from:
...or elsewhere in the world, search for "Useful Bible Studies on Colossians by Keith Simons" in your Amazon store.
Our commitment to making our books available freely on the Internet remains unchanged; we still encourage you to use our downloads, and to print out, without charge, your own copies of our books. Let us know what you think of this paperback book - and please do put your own book review on Amazon so that others can see your opinions.
May God bless you as you study his word!