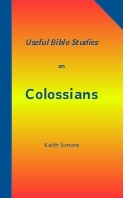 During February, our new book on Colossians is available from Amazon at a special low price. We are doing this especially to help churches and groups that may want to order several copies. Your church may be organising a special course before Easter - if so, this is an opportunity to obtain books for your members cheaply.
If you just want one book, then you too can buy it at the same low price. The price will go up again in March, so order now:
For more information, see our news page. You can see all the articles in the book online: click on: Colossians.