Useful Bible Studies > Colossians Commentary > chapter 2
Christ: fully God, and fully man
Colossians 2:9
There is one God. The Bible describes him as Father, Son, and Holy Spirit. So Christ, who is God the Son, has always been God (John 1:1; Philippians 2:5-6; Hebrews 13:8).
At the time that God the Father had chosen, Christ came to live among us (John 1:14; Galatians 4:4; Philippians 2:7-8). He did not then come in an act of great power, but humbly and in weakness. He was born into this world as a human baby, and he grew into a man. His body had all the same weaknesses that we know. He felt pain and hunger, cold and heat as we do. However, he was still God, although the world did not recognise him (John 1:9-11).
Christ's body was like the holy temple, the house on earth where God lives (John 2:18-21). However, even the holy temple could not contain God fully (2 Chronicles 6:18), although God had entered it in a special way (2 Chronicles 5:13-14). In Christ, God was fully present because Christ is God.
So in Christ, we see perfectly the qualities and the nature of God. Christ had the Father's love and wisdom. Christ acted in the power of the Spirit. Christ alone has the Holy Spirit without any limit (John 3:34); the person who sees Christ has seen the Father (John 14:9). Christ is the true and living way to God. The only way that we can come to the Father is by him (John 14:6). Therefore, Christians depend completely on Christ for their relationship with God (2:6-7). Any religion or any other idea that claims to know a better way to God is wrong (2:8). We must only put our trust in Christ; no set of traditions or rules can ever take his place (Colossions 2:20-22).
Next part: What should fill a Christian's life? (Colossians 2:10)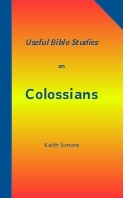 Please use the links at the top of the page to find our other articles on Colossians. You can buy all 80 studies in a paperback book from Amazon.
You can download our articles on several Bible books, free, from our download page (including our free 1000+ page course book).
© 2019, Keith Simons.