Useful Bible Studies > Colossians Commentary > chapter 3
Christians should not speak lies
Colossians 3:9
Some Bible translations speak about 'the old nature' here; however, in the original language (Greek), Paul's words are 'the old man'. That is probably a reference to Adam, the first man. Adam chose to follow his own desires and not to obey God. 'The new man' in verse 10 means Christ. Christ chose to obey God and not to follow his own desires (Mark 14:36).
By nature, we all behave like Adam (Romans 5:12). Paul has just given us examples of our selfish behaviour (3:5) and our acts to hurt other people (3:8). When we speak lies, we are guilty of both of these: we are acting selfishly and we are hurting other people. That was not how Christ behaved. He spoke the truth. God never lies.
Christians should be sincere and honest people (2 Corinthians 4:2). They should be truthful with everyone. Paul particularly emphasises that they should speak the truth to each other. It seems that many of the first churches had a problem with this. In some churches, the Christians were arguing with each other (1 Corinthians 1:11). In an argument, people often speak lies, because they hope to gain some advantage from their lies. In addition, some teachers had entered the churches who tried to impress the Christians (Acts 20:29-30). They often spoke lies to make themselves seem more impressive.
When a person becomes a Christian, he receives a new kind of life (2 Corinthians 5:17). He becomes a child of God (John 1:12). A child should behave as his father does (John 8:39). So, Christians should behave as God does (Matthew 5:48). They should always speak the truth.
Next part: Our new life with Christ (Colossians 3:10)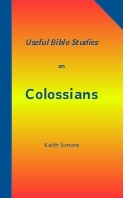 Please use the links at the top of the page to find our other articles on Colossians. You can buy all 80 studies in a paperback book from Amazon.
You can download our articles on several Bible books, free, from our download page (including our free 1000+ page course book).
© 2019, Keith Simons.