Useful Bible Studies > Colossians Commentary > chapter 1
Enemies of God can become his friends
Colossians 1:21
Paul has just told Colosse's Christians about his prayers for them. In his account of those prayers (verses 9 to 20), Paul reminded them about the wonderful things that God is doing in their lives. God forgave their evil deeds and he has rescued them from the devil's power (verses 13 and 14). Now he continues to work in their lives (verses 9 to 11); he prepares them for the wonderful things that he will do for them in the future, in heaven and the New Jerusalem (verse 12).
Especially, Paul emphasises that God is doing these things for them because of Christ, God's Son (verses 13 to 20). It is Christ's death for them (verse 20), and their relationship to Christ (verse 18), that make all these things possible.
Without Christ, it is absolutely impossible for any person to know the benefits of a right relationship with God (John 14:6). So Paul reminds Colosse's Christians about their state in relation to God before they trusted Christ. Like all people (Romans 3:23), they were guilty of many wrong and evil deeds. Both their actions and the attitudes of their minds were wrong. Our wrong thoughts, words and deeds separate us from God (Isaiah 59:2). These things cause God's anger to be against us (Romans 1:18), and we make ourselves into enemies of God.
So, it is very wonderful that, by the death of Christ, God can bring us into a right relationship with himself (1:22). When we turn from our evil deeds to trust Christ, God forgives us (verse 14). In that way, God turns his enemies into his friends, into his holy people (verse 12). God did that in the lives of Colosse's Christians, and he can do that in our lives too.
Next part: Christ became a man so that we can become his holy people (Colossians 1:22)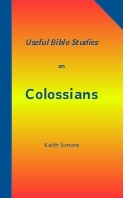 Please use the links at the top of the page to find our other articles on Colossians. You can buy all 80 studies in a paperback book from Amazon.
You can download our articles on several Bible books, free, from our download page (including our free 1000+ page course book).
© 2019, Keith Simons.