Useful Bible Studies > Colossians Commentary > chapter 3
God's anger – and the only way of escape
Colossians 3:6
There is no proper reason for any Christian to continue in the selfish behaviour and attitudes that Paul has described (3:5). He warns us, not just about wrong acts, but also about wrong desires, especially for sex or money. It is this kind of behaviour that makes God, as our judge, rightly angry (Romans 1:18). This is the reason why God's judgement is against this world's people (Revelation 18:2-3).
Of course we must escape from that anger and from the punishment that must happen because of it. However, we cannot escape by any human effort, or even by our acts of religion (Matthew 3:7). The way of escape that God has provided, is Jesus (John 3:16-19). Jesus died to save (rescue) all who put their trust in him, from God's anger (1 Thessalonians 1:10; Hebrews 2:3). He alone can bring people into a right relationship with God (Romans 5:8-11).
The freedom that Christ has given to his people is truly wonderful (Romans 8:1-2; Galatians 5:1). However, it is not the freedom to return to wrong, evil and selfish behaviour and attitudes (1 Corinthians 6:12-13; Galatians 5:13). These things are the opposite of how God wants his people to live (Galatians 5:16-24). If we are truly God's people, then we must turn from this evil way to live. We must pray for God to save us from the things that tempt us to do these wrong things (Matthew 6:13). We must study God's word, the Bible, to learn how he wants us to live (Psalm 1). As Christians, we refuse to do anything that makes God angry. Instead our deepest desire is to do those things that please God (2 Corinthians 5:9).
Next part: Christ changes people's lives completely (Colossians 3:7)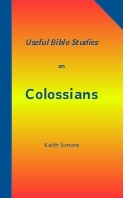 Please use the links at the top of the page to find our other articles on Colossians. You can buy all 80 studies in a paperback book from Amazon.
You can download our articles on several Bible books, free, from our download page (including our free 1000+ page course book).
© 2019, Keith Simons.