Useful Bible Studies > Colossians Commentary > chapter 1
The gospel is spreading across the world
Colossians 1:6
The first Christian church was in Jerusalem, but the gospel (God's message about Christ) did not remain there for long. Christ had told his disciples (special students) to take his message across the world (Acts 1:8), and the first Christians soon began to do that (Acts 8:1-5; Acts 11:19-21).
Paul was writing less that 30 years after Christ's death. By that time, Paul himself had declared the gospel through the countries on the north-east side of the Mediterranean (Romans 15:19). Other Christians had gone to other places. One of them, Epaphras, had brought the gospel to Colosse (1:7), where Paul had not been (2:1). Everywhere that the gospel went, people were turning from false religions to serve the true and living God. God was changing people's lives in the most impressive manner (2 Corinthians 5:17); and he was carrying out extraordinary and powerful acts (Hebrews 2:4).
Paul compared this to the way that a tree grows. Like a tree with plentiful fruit, the gospel was producing the most wonderful results in people's lives. In fact, it even seemed as if God was changing the natural order of things. A tree must grow large before it can produce fruit. However, the gospel was producing these results as soon as the Christians declared it. It was as if a tree could produce fruit without the need to wait for it to grow first (compare Numbers 17:8)!
God's message, the gospel, does not change (Galatians 1:6-9). It has not lost its power (Romans 1:16). Still today, God works in the most wonderful way in the lives of those people who accept it (1 Corinthians 2:9). Even now, Christians are taking the gospel to those parts of the world that seem most distant to us. Even in those places, God is causing those people to know his kindness, his grace, in truth.
Next part: Epaphras, who brought God's message to Colosse (Colossians 1:7-8)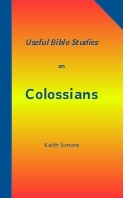 Please use the links at the top of the page to find our other articles on Colossians. You can buy all 80 studies in a paperback book from Amazon.
You can download our articles on several Bible books, free, from our download page (including our free 1000+ page course book).
© 2019, Keith Simons.