Useful Bible Studies > Colossians Commentary > chapter 2
How Christ's death can cancel the judgement against us
Colossians 2:14
At the time of Christ, when a judge ordered someone's death, he wrote down his judgement against that person (John 19:19-22). The judge's notice was a declaration of the law that the person had not obeyed. It acted like a bill against a person who was in debt. The law demanded that the criminal must pay with his life for that crime. So, the soldiers nailed that notice to the cross on which they killed that person.
We think that only the death of that criminal would satisfy the government's laws. However, for an ordinary debt, it was not always necessary for the person who owed the money to pay. Someone else could simply accept the responsibility for that debt (for example Philemon 18). It did not matter who paid. To satisfy the law, it was only necessary that someone should pay the full debt.
That is similar to what Christ did at his death. We have all offended against God's holy law (Romans 3:9-20); and God's judgement against our evil deeds is death (Ezekiel 18:20; Romans 6:23). However, God desires very much to forgive us (Exodus 34:6-7; Isaiah 1:18; Ezekiel 18:30-32). So he permitted his Son, Christ, to suffer the punishment that we deserve (John 3:16-18; Romans 5:6-8; 1 Peter 2:24). When we turn from our evil deeds to accept Christ into our life, God forgives us (John 1:12-13; Luke 15:7; Acts 2:38).
So the effect of Christ's death is to give people a right relationship with God. In addition, it can bring those people into a right relationship with each other. So, the first Christian churches included both Jews (Israel's people), and people from other nations. God had brought them together by means of Christ's death (Ephesians 2:11-20).
Next part: By means of the cross, Christ overcame his enemies (Colossians 2:15)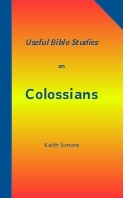 Please use the links at the top of the page to find our other articles on Colossians. You can buy all 80 studies in a paperback book from Amazon.
You can download our articles on several Bible books, free, from our download page (including our free 1000+ page course book).
© 2019, Keith Simons.