Useful Bible Studies > Colossians Commentary > chapter 1
The life that truly pleases God
Colossians 1:10
Paul describes a life that truly pleases God. This person lives as a friend of God should live. Such a person's good works are plentiful, like a tree that produces much fruit. As the person grows to become mature, so does their relationship with God. In the future age, they will fully know him, even as God already fully knows them (1 Corinthians 13:12).
We ask how such a life is possible. However, Paul is not describing the lives only of a few extremely holy people. Rather, he is describing how a normal Christian life should be. This is how all Christians should live. So, as Christians, we must ask how we can live like this.
Clearly, such a life is not possible if we desire to continue our evil, selfish behaviour. That kind of attitude is the complete opposite of how God wants people to live. Instead, we need to learn God's wisdom about how he wants us to behave (Job 28:28; Proverbs 2:1-6). God has provided that information for us in the Bible (Psalm 1:1-3; Psalm 119:98-100). He has put his Spirit in the life of each Christian (Romans 8:9), to guide and to direct their lives (Galatians 5:16). He has placed them in churches (Hebrews 10:25), with leaders to teach them and to help them (Hebrews 13:17; Ephesians 4:11-13). He himself hears their prayers, and he acts powerfully on their behalf.
In every circumstance, God is working in the lives of his people (Romans 8:28-30). God is making them into the kind of people that he wants them to be (Romans 8:16-19). So even in difficult situations, they should learn the lessons that he is teaching them (Hebrews 12:5-11). At all times they should gladly do those things that he wants them to do (2 Corinthians 5:9; Psalm 40:8).
Next part: Paul's prayer for Colosse's Christians (Colossians 1:11)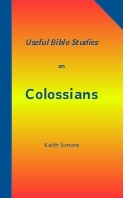 Please use the links at the top of the page to find our other articles on Colossians. You can buy all 80 studies in a paperback book from Amazon.
You can download our articles on several Bible books, free, from our download page (including our free 1000+ page course book).
© 2019, Keith Simons.