Useful Bible Studies > Colossians Commentary > chapter 3
The love that Christians must show
Colossians 3:14
Paul now brings his thoughts together, even as a belt brings our clothes together. What brings together all the qualities in verse 12 is love. (In that verse, Paul told Christians to 'put on' these qualities, as if they were clothes. Here in verse 14, he describes love as like a belt, that brings clothes together.) In fact, it is love that brings Christians together, both in their relationship with God, and with each other (John 13:34-35). Christians have chosen to leave their selfish behaviour, because to live selfishly is to serve a false god (3:5). They have also chosen to end the kind of behaviour that only exists in order to hurt other people (3:8).
So now Christians must follow a better way to live, in fact, God's way for them to live. That way is love (1 John 4:7-12). God's greatest command is that we must love God with all our heart. His next command is that we must love other people as ourselves (Mark 12:28-31).
This is not the kind of love that is just an emotion. Nor is it merely the reaction when other people love us (Matthew 5:46). Rather, by our acts to help other people, we express the love that God's Holy Spirit produces in our lives (1 Corinthians chapter 13; Galatians 5:22-23).
That kind of love gives us the power to forgive someone who has offended us (3:14). That love gives us the desire to help all people, whenever God provides an opportunity (Luke 10:29-37). That love joins Christians from different nations and different situations in life together as God's people (3:11). Even as Christ showed us this love (John 3:16; Romans 5:8), so he sends us to bring his love to our world.
Next part: The peace of Christ (Colossians 3:15)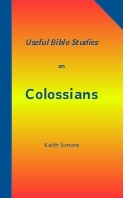 Please use the links at the top of the page to find our other articles on Colossians. You can buy all 80 studies in a paperback book from Amazon.
You can download our articles on several Bible books, free, from our download page (including our free 1000+ page course book).
© 2019, Keith Simons.