Useful Bible Studies > Colossians Commentary > chapter 2
The meaning of baptism
Colossians 2:12
Here and in Romans 6:4, Paul compares events in Christ's life to the experiences of someone who becomes a Christian. When people become Christians, God changes their lives completely (2 Corinthians 5:17). It is as if their former life has ended, together with all their reasons to live in an evil or selfish manner. They have begun a new kind of life with Christ (John 3:3). Now their only desire should be to live a good, right and holy life, and so to please God (Romans 12:9-21; Ephesians 5:8-10).
Baptism is a ceremony with water for a person who becomes a Christian. Its purpose is to show in a physical way what God has done in that person's spirit. Many Christians today only use a little water, but the first Christians used much water in baptism (Acts 8:36-39). As the water washes over the person, we should understand that to mean the end of the person's former life. It is like when people bury a dead body (compare Mark 10:38).
Then, even as Christ rose from death, so the power of the Holy Spirit gives new life to that person (Romans 8:11). By faith (trust in Christ), the person has received the life that will never end (John 3:16; John 10:10). Their life will continue with Christ, in heaven and the New Jerusalem, even after the death of their body (John 11:25-26). In fact, in the end, even their bodies will live again with a new kind of life (1 Corinthians 15:12-57; 1 Thessalonians 4:13-17).
To become a Christian, a person must turn from sin (evil deeds) and invite Christ into their life. Without that, baptism is just a ceremony that achieves nothing. However, when a person truly turns to Christ, baptism is an important experience in their life as a Christian.
Next part: Alive with Christ (Colossians 2:13)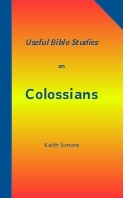 Please use the links at the top of the page to find our other articles on Colossians. You can buy all 80 studies in a paperback book from Amazon.
You can download our articles on several Bible books, free, from our download page (including our free 1000+ page course book).
© 2019, Keith Simons.