Useful Bible Studies > Colossians Commentary > chapter 4
More about Epaphras
Colossians 4:12-13
Epaphras established the church in Colosse, and perhaps the churches at Laodicea and Hierapolis too. These three cities were in the same region, about 10 or 15 miles (15 or 20 kilometres) from each other.
It seems that Epaphras had travelled to Rome, probably to meet Paul and to bring the church's gift for him (see Colossians 1:7-8). Rome is about 1,000 miles (1,600 kilometres) from Colosse and the best route included a dangerous sea journey.
Paul saw how responsible Epaphras was as a church leader. He was far from his church, and he would not see any of the members again for several months. Perhaps it would be even longer than that: Philemon 23 describes him as a prisoner with Paul. We do not know how he became a prisoner; perhaps someone accused him of a crime when he reached Rome.
However, in his present difficulties, Epaphras had not forgotten the Christians in Colosse; and he was not neglecting his responsibilities for them. In Rome, he could not meet with them or speak to them. So, he prayed very much for them. He prayed that they would be firm in their relationship with God, and mature in their trust in him. He prayed for them to learn from God, and so to know what God wanted them to do.
In prayer, Epaphras was not simply telling God his requests. The Bible describes a much more serious kind of prayer that is like a battle (2 Corinthians 11:28-29; Ephesians 6:10-20; Hebrews 5:7). In these kind of prayers we must pray constantly, and not give up (Luke 18:1-8). These were the sort of prayers that Epaphras prayed. In the original language (Greek), Paul called those prayers a 'struggle' in Colossians 4:12. In the next verse, his word for 'work' means the kind of work that a soldier does in a battle. Clearly, Epaphras was very serious in the way that he prayed. He was trusting God to act powerfully in the lives of Colosse's Christians, and the other Christians in that region.
Next part: About Luke and Demas (Colossians 4:14)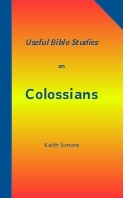 Please use the links at the top of the page to find our other articles on Colossians. You can buy all 80 studies in a paperback book from Amazon.
You can download our articles on several Bible books, free, from our download page (including our free 1000+ page course book).
© 2019, Keith Simons.