Useful Bible Studies > Colossians Commentary > chapter 1
The most important work for a church leader
Colossians 1:28
Some of today's church leaders have wrong ideas about the work that they should do. In their opinion, their main work is to organise people, or perhaps to bring comfort to people in difficult situations. Also, they seem to care little about those people who are unlikely to join their church.
Paul believed strongly that the most important work for a church leader is to declare Christ to the world (Romans 1:16; 1 Corinthians 2:1-2). He spoke about Christ to everyone, whenever God gave him the opportunity (1 Corinthians 9:19-22). When people were willing to listen, Paul taught them (Acts 17:10-11; Acts 18:9-11). When they were not, Paul warned them about God's anger against their own evil deeds (Romans 1:18) and the future judgement (Revelation 20:11-15 and 21:8).
Paul's eager desire was that people would turn from their evil deeds, to trust in Christ. However, Paul did not consider that to be the end of a church leader's work, but rather its beginning (Philippians 1:6). He compared new Christians to little babies who needed to grow, to become strong, and to learn (1 Corinthians 3:1-3). So he taught them from the Bible, and he constantly encouraged them to become strong in their relationship with Christ. In every situation, they should learn not to follow their own wrong desires, but to put their complete trust in Christ. Also, Paul prayed much for them (1:9-10). He prayed for God to work powerfully in their lives, so that they would truly be mature in their relationship with him (Ephesians 3:14-21).
Next part: Paul's work for God during his years as a prisoner (Colossians 1:29)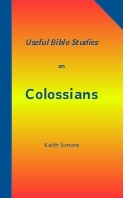 Please use the links at the top of the page to find our other articles on Colossians. You can buy all 80 studies in a paperback book from Amazon.
You can download our articles on several Bible books, free, from our download page (including our free 1000+ page course book).
© 2019, Keith Simons.