Useful Bible Studies > Colossians Commentary > chapter 4
Paul blesses Colosse's Christians
Colossians 4:18
Paul's final greeting for the church at Colosse is his own. It seems that he did not write the rest of the letter himself. Someone else, perhaps Timothy (1:1), was writing Paul's words for him.
Paul was a prisoner in Rome at the time. A chain joined him constantly to the soldier who guarded him. Perhaps that chain was round Paul's arm, so that it was difficult for him to write. However, Paul insisted that he himself would write the final greeting.
It was the duty of Israel's priests in Numbers 6:22-27 to bless the people. On God's behalf, they spoke to declare that God would show his goodness to them. Paul was not one of those priests; however, he still believed that God wanted him to bless the Christians. It was important to declare that God would show his kindness to them (2 Thessalonians 3:17-18). Paul does this at the end of each of his letters. The Christians in each church needed to know that they benefitted from God's grace, his great kindness.
Christians need to remember that they did not become Christians by their own efforts. Also, they cannot now live as God wants, by their own efforts. Nobody can do these things. It is only the operation of God's grace, his great kindness, in a Christian's life that makes all this possible (1 Corinthians 15:10). So Christians must depend completely upon God – but God's grace will never disappoint them (2 Corinthians 12:9).
© 2019 Keith Simons
This book is in EasyEnglish Level B (2800 words), which was developed by Wycliffe Associates (UK).
October 2019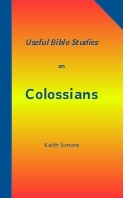 Please use the links at the top of the page to find our other articles on Colossians. You can buy all 80 studies in a paperback book from Amazon.
You can download our articles on several Bible books, free, from our download page (including our free 1000+ page course book).
© 2019, Keith Simons.