Useful Bible Studies > Colossians Commentary > chapter 4
Prayer so that we can declare the gospel properly
Colossians 4:4
Paul knew of course, how he ought to declare the gospel, the message about Christ.
So, he must speak simply about Christ and his death, so that everyone can understand (1 Corinthians 2:1-2). He must speak truthfully, and not try to impress people with wrong methods (2 Corinthians 4:2). He must act humbly, and he must serve other people on behalf of Christ (Mark 10:43-44). He must allow God's Holy Spirit to direct him (Galatians 5:16) and to act through him (2 Corinthians 12:12). In addition, Paul must do all these things with genuine attitudes of Christian love (Romans 12:9) and joy (Philippians 4:4).
So, Paul knew what he must do. However, he did not imagine that he could do any of these things by his own power. Rather, the power to do God's work in the way that pleases him, must come from God. Paul depended upon God to work powerfully in his own life so that he could bring God's message to other people.
For that reason, Paul requested prayer on his behalf from Colosse's Christians. Of course Paul was also praying for himself. However, prayer is one way that different groups of Christians can share together in God's work. Paul was praying much for Colosse's Christians (1:9); they too should be praying for him. That is a way to show love, because our prayers are not merely pleasant thoughts. When we pray, we are asking God to act on our behalf. Prayer is powerful (James 5:16). So we must be careful to ask for what God wants (1 John 5:14). Also, we must pray in faith; in other words we must trust God (Hebrews 11:6).
Next part: Be wise among people who are not Christians (Colossians 4:5)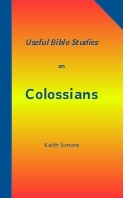 Please use the links at the top of the page to find our other articles on Colossians. You can buy all 80 studies in a paperback book from Amazon.
You can download our articles on several Bible books, free, from our download page (including our free 1000+ page course book).
© 2019, Keith Simons.