Useful Bible Studies > Colossians Commentary > chapter 2
Rules of religion, and their proper purpose
Colossians 2:16
We must never allow the rules and customs in our churches to become more important to us than God is. Something like that was happening among the first Christians, and Paul warned against it.
God had given to Israel's people various laws about their food (Leviticus chapter 11). The purpose of those laws was to show the people that their nation is different from the other nations. Israel is God's holy nation; in other words, Israel belongs to God.
Israel's leaders also made some rules for the people to follow. For example, they taught them to pray certain prayers before various kinds of food and drink. Really they were teaching them to be grateful to God for these things.
In addition, God had chosen various sacred holidays and holy days for Israel's people. These were days to pause from work, to remember God's goodness or to pray (Leviticus chapter 23). Israel's leaders also added some other days for similar purposes (for example, Esther 9:18-28).
Most of Colosse's Christians did not belong to Israel and they did not need to follow these rules (Acts 15:1-29). However, some teachers then went into the churches to insist that the Christians had to obey all these things (2:8). They said that they were teaching a better way to serve God. In reality, they were trying to lead Christians away from their love for Christ (2 Corinthians 11:1-15). By that means, many of them hoped to gain power and authority for themselves.
The purpose of God's law is always to guide us into a closer and stronger relationship with God. Any rule or custom in the church that does not have that effect, is not really helping anyone.
Next part: Do Christians have to obey God's law? (Colossians 2:17)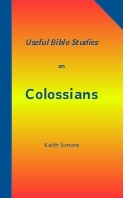 Please use the links at the top of the page to find our other articles on Colossians. You can buy all 80 studies in a paperback book from Amazon.
You can download our articles on several Bible books, free, from our download page (including our free 1000+ page course book).
© 2019, Keith Simons.