Useful Bible Studies > Colossians Commentary > chapter 1
Who, or what, should a minister serve?
Colossians 1:25
Paul here describes himself as a minister of the church, by which he means God's people. His word for minister in the original Greek language is DIAKONOS. We often consider a minister to be a church leader, but that word actually means a servant (compare Mark 10:42-45 and John 13:1-17). So, the real work of our church leaders is to serve.
We may ask ourselves who, or what, they should serve. Paul gives three answers in Colossians chapter 1.
(1) In verse 7, Paul uses the work DIAKONOS when he describes Epaphras as a servant of Christ. Epaphras was the leader of the church at Colosse. A church leader is a servant of Christ because Christ is his master. It is Christ who appoints different kinds of church leaders (Ephesians 4:11). Christ directs them in the work that they should do (1 Corinthians 3:5-9). They should gladly choose to obey Christ in everything.
(2) In verse 23, Paul uses the same word to describe himself as a minister, or servant, of the gospel. The gospel is God's message about Christ and his death (1 Corinthians 1:17-18 and 2:1-2). It was Paul's duty to declare this message fully in every place that God sent him (Romans 15:19). As Paul did that, God was carrying out his promise to bring his message to the Gentiles, people not from Israel (Isaiah 49:6; Romans 15:18-21). So, by means of his ministers, God was filling these countries with his message (Acts 17:6; Romans 10:17-18).
(3) Here in verse 25, Paul is a minister of the church. In other words, he serves the people that God has sent him to serve. Paul describes his responsibility to look after the churches and the Christians in 2 Corinthians 11:28-29. Colossians 1:28 to 2:1 is a similar passage. Mainly Paul carried out these duties as he taught the Christians, and by his prayers for them. In those passages, Paul emphasises how hard this work was. However, God gave him the strength to do it.
Next part: God's plan for people from every nation (Colossians 1:26)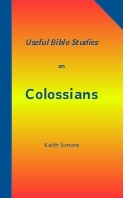 Please use the links at the top of the page to find our other articles on Colossians. You can buy all 80 studies in a paperback book from Amazon.
You can download our articles on several Bible books, free, from our download page (including our free 1000+ page course book).
© 2019, Keith Simons.