Useful Bible Studies > Colossians Commentary > chapter 3
The word of Christ
Colossians 3:16
As Christians, we must not act or think selfishly (3:5-14). In the same way, even our thoughts and our words must not be entirely our own. Instead, our words need to agree with what the Bible, the word of God, says (2 Corinthians 1:20; Romans 4:18-22). So we need to give the word of Christ a permanent place in our hearts and minds. It is like a rich man's store of good things, which he has available, ready to bring out on every occasion (Matthew 13:51-52).
So, in Christ's words we find the wisdom to teach or to warn other people. We must not depend on our own, human ideas to carry out such an important task (James 3:1-2; James 3:13-18). Our own thoughts and words are much too weak to give people the help that they need. Instead, we must direct people to God, who alone is the source of all true wisdom (Proverbs 2:6; Proverbs 3:5-6).
In the same way, our songs of praise to God must not come solely from the human mind. We need to praise God with the words that Christ himself has given to us. We must choose songs that express the thoughts, ideas and even the actual words of the Bible.
So we should not choose our songs as this world's people do. What they desire is attractive music, powerful impressions and strong emotions. Such people are only trying to satisfy their own desires and feelings. Instead, as Christians, we should choose the songs that make our relationship with God stronger, closer and better. In God's word, the Bible, we will find the songs that give us strength during our lives on earth (Psalm 119:54).
Next part: Serve God with a grateful attitude (Colossians 3:17)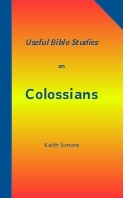 Please use the links at the top of the page to find our other articles on Colossians. You can buy all 80 studies in a paperback book from Amazon.
You can download our articles on several Bible books, free, from our download page (including our free 1000+ page course book).
© 2019, Keith Simons.