Useful Bible Studies > Ecclesiastes Commentary > chapter 1
Can our desires ever satisfy us?
Ecclesiastes 1:8-11
Most people have a genuine desire to achieve something good during their lives. They would like to make life better for the people who live after them.
That may be our desire, but usually our lives seem much too hard to do anything about it. Everything that we do feels like a hard task. Although we work hard, we cannot even satisfy our own immediate desires. Even if we do manage to do something to help people in the future, they will not be grateful. Soon, they will forget that we even existed.
Our desires should be an expression of the best things that we hope for. In our desires, we imagine that we can find the solution to the world's problems. But there is something very wrong about our desires. Our wrong and evil desires have become the cause of the world's problems (Galatians 5:19-21). We have found that we cannot control our own desires. In fact, our wrong desires control us (Romans 7:17-20).
We are in a desperate state. All the old solutions have failed. Our own efforts cannot save us. Our money cannot save us. We struggle like slaves, because the world operates like that (Galatians 4:3). We desire to find some new solution, but there are no new solutions. It seems that nothing can rescue us.
With God, all things are possible (Mark 9:23). God can do something that is completely new (2 Corinthians 5:17). He can make people who once were slaves into his children (Galatians 4:3-7). He can make people free (Romans 8:1-2). He can change their desires completely. And he can fill them with his Holy Spirit (Galatians 5:22-23).
Next part: Why is life so hard? (Ecclesiastes 1:12-15)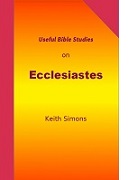 Please use the links at the top of the page to find our other articles in this series. If you find these articles useful, you will like our book, available from Amazon.
You can download our articles on several Bible books, free, from our download page (including our free 1000+ page course book).
© 2019, Keith Simons.