Useful Bible Studies > Ecclesiastes Commentary > chapter 1
Does wisdom improve a personís life?
Ecclesiastes 1:16-18
Foolish and stupid behaviour does not improve anyoneís life. That is a clear fact. People suffer much because of their foolish decisions.
When Solomon decided to study peopleís behaviour, he also chose to study foolish and unwise behaviour. Usually Solomon liked to study, but this kind of knowledge brought him no pleasure. He saw how people were wasting their lives. He realised that they were causing unnecessary trouble for themselves. Their situation seemed hopeless, because they did not even want to be wise.
And Solomonís situation seemed hopeless too. He had hoped to use his wisdom in order to save people from their troubles. But the people did not want Solomonís wisdom. And Solomon could not even convince them that wisdom was a good thing. Even Solomon had to declare that his knowledge about these things made him sadder and more serious. The people could not believe that it was good to be sad, like their king!
It is interesting to compare Psalm 1 with Ecclesiastes 1:16-18. Most people do not have a relationship with God, and they do not even want to know God. They think that knowledge of Godís word (the Bible) would make them sad. They would be sad if they knew Godís opinion about the true state of their lives.
But the author of Psalm 1 declared that constant study of Godís word (the Bible) gave delight (Psalm 1:2). This is the kind of wisdom that changes peopleís lives completely (Proverbs 3:13-16). And it comes only from God (Job 28:28; Proverbs 2:6).
Next part: Is there a worthwhile way to live? (Ecclesiastes 2:1-3)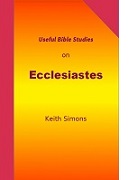 Please use the links at the top of the page to find our other articles in this series. If you find these articles useful, you will like our book, available from Amazon.
You can download our articles on several Bible books, free, from our download page (including our free 1000+ page course book).
© 2019, Keith Simons.