Useful Bible Studies > Ecclesiastes Commentary > chapter 10
A fly in the ointment
Ecclesiastes 10:1
Many people want to serve God, but not completely. They want him to approve of their lives, but still they continue to do some bad things, on purpose. So in their lives, they try to combine good actions with evil actions.
But the result is not good. God insists that his people must serve him only (Deuteronomy 5:7-9). Jesus said that it is impossible for anyone to serve both God and money (Matthew 6:24). A person who does not obey just one of Godís commands has offended against the whole of Godís law (James 2:10-11).
Perfume (or ointment) is oil that has a sweet smell. It is useful only when its smell is pleasant. For that reason, its maker must be careful to keep it completely clean. A little fly may seem too small to matter. But it will spoil the entire jar of perfume. As the dead fly goes bad, it will cause the rest of the contents of the jar to go bad, too. And when the buyer opens the jar, it will all smell awful.
The Bible considers it wise to serve God. And it declares that it is foolish not to serve him. A wise person gives his life completely to God (Acts 3:19). So, a wise person does not join in any evil activity (Psalm 1:1).
Of course, people who serve God sometimes do wrong things. But they consider that a very serious matter (1 John 2:1). They confess their evil deeds to God, because they want him to forgive them (1 John 1:9). And God can forgive those evil deeds because of Christís death (1 John 2:2).
Next part: Wise and foolish behaviour: is it just a matter of opinion? (Ecclesiastes 10:2-3)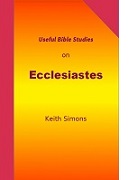 Please use the links at the top of the page to find our other articles in this series. If you find these articles useful, you will like our book, available from Amazon.
You can download our articles on several Bible books, free, from our download page (including our free 1000+ page course book).
© 2019, Keith Simons.