Useful Bible Studies > Ecclesiastes Commentary > chapter 5
Foolish and wise prayers
Ecclesiastes 5:1-3
Many people are very foolish when they pray. They try to convince God that they deserve his help and support. They tell God how much better than other people they consider themselves (Luke 18:11-12). They think that they can impress God by a long prayer (Mark 12:40) or an expensive gift (Micah 6:6-8).
When people recognise their true state in front of God, they are humble. They know that they do not deserve any kindness from him. They confess that they are guilty of many wrong things against Godís law. They ask God for help because of his great kindness, not because of anything that they have done (Luke 18:13-14).
The Bible often warns people about proud attitudes. And that is especially important when people pray. They should remember how great God is. They should respect him as they pray. They should listen to his word, and they should obey him.
In prayer, it is more important to have the right attitudes than to say the right words. God already knows what we will ask. And he knows what we really need (Matthew 6:8).
In prayer, it is more important to trust God than to pray a long prayer (Mark 11:23-24). People often pray long prayers for the wrong reasons (Matthew 6:7; Mark 12:40). But sometimes it is right to pray for a long time, for example, Mark 1:35 and Acts 1:14.
Many people who have a close relationship with God pray constantly (Luke 18:1; 1 Thessalonians 5:17). And their prayers please God.
Next part: Promises to God (Ecclesiastes 5:4-7)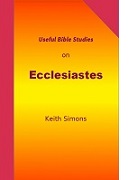 Please use the links at the top of the page to find our other articles in this series. If you find these articles useful, you will like our book, available from Amazon.
You can download our articles on several Bible books, free, from our download page (including our free 1000+ page course book).
© 2019, Keith Simons.