Useful Bible Studies > Ecclesiastes Commentary > chapter 12
God is the judge of all our deeds
Ecclesiastes 12:14
The main subject in the earlier chapters of the Book of Ecclesiastes is peopleís works. That is, the things that they do during their lives. The main subject in the later chapters is the judgement of God.
This last verse in the book is about both these subjects. It declares that God is the judge of all our deeds.
The author of Ecclesiastes insists that people can work for their whole lives without any benefit (Ecclesiastes 1:3; Ecclesiastes 2:22-23). They work hard, but achieve nothing. That is, nothing that really matters. They might become rich and they might have long lives. But without a right relationship with God, these things benefit nobody (Ecclesiastes 6:1-7). They are not ready for the judgement of God; in fact, they cannot even satisfy their own desires.
We do not think that the judgement of God has ever been a popular subject. The Book of Ecclesiastes declares that all people are guilty of wrong and evil deeds (Ecclesiastes 7:20). We have neglected Godís law, and we have done it on purpose (Ecclesiastes 7:29). God knows about everything that we have done. He even knows about the things that we do in secret (Ecclesiastes 12:14).
Because all people are guilty, people try to do things in order to satisfy God. In other words, they think that they can please him by their works. Such behaviour is foolish; Godís judgement is certain (Ecclesiastes 11:1-8).
The only proper way to prepare for Godís judgement is to have a right relationship with God (Ecclesiastes 12:1; Ecclesiastes 12:13). As we cannot earn that relationship by our works, we must receive it as a free gift from God (Romans 4:4-5). That gift is for the people who trust God. God forgives those people (Romans 4:6-8) and he looks after them in a special way (Ecclesiastes 9:1). Although their lives on his earth are like the lives of other people, Godís judgement about them will be completely different.
Even in this world, there is a difference between wise and foolish behaviour (Ecclesiastes 9:13-18). Real wisdom is Godís gift (Proverbs 2:1-6). That wisdom shows people how they can receive a right relationship with God (Proverbs 3:5-6; 1 Corinthians 1:18-25).
The person who serves God has no reason to be afraid of Godís judgement (2 Peter 3:10-13). In fact, for such people, the effect of Godís judgement will be to rescue them from all that is evil (Revelation 21:1-5).
Next part: About the Book of Ecclesiastes - its author, date and purpose.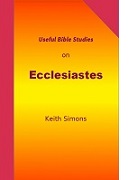 Please use the links at the top of the page to find our other articles in this series. If you find these articles useful, you will like our book, available from Amazon.
You can download our articles on several Bible books, free, from our download page (including our free 1000+ page course book).
© 2019, Keith Simons.