Useful Bible Studies > Ecclesiastes Commentary > chapter 8
The greatness of Godís work
Ecclesiastes 8:16-17
The author of Ecclesiastes had intended to study what people could achieve by their efforts. But, in fact, he discovered that peopleís best efforts are very weak. Even if they work constantly for their whole lives, people still do not achieve much. And what they do achieve cannot last.
Such thoughts helped the author to understand better how great God is. Everything that God does, achieves its proper purpose. He always acts at the proper time. And he does nothing that is in vain.
The greatness of Godís work astonishes us. We see the vast variety of plants and animals in this world. We see how perfect their form is. But they are only a tiny part of the things that God created upon earth. And the earth is only a tiny part of all that God has made.
Scientists study these things for their whole lives. But they hardly begin to understand all that God has done.
Only fools imagine that they know everything. The Bible says that true wisdom comes from God. People start to be wise when they respect God (Job 28:27-28; Proverbs 2:5-6).
It might seem unpleasant to know that human knowledge and human effort are so weak. But the truth can make us free. When we realise about our weakness, we will not depend on our own intelligence or our own work. And then we are ready to trust God. If we trust God, he will teach us (Proverbs 3:5-6).
Next part: Are Godís people different from other people? (Ecclesiastes 9:1)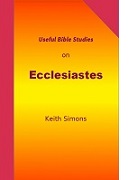 Please use the links at the top of the page to find our other articles in this series. If you find these articles useful, you will like our book, available from Amazon.
You can download our articles on several Bible books, free, from our download page (including our free 1000+ page course book).
© 2019, Keith Simons.