Useful Bible Studies > Ecclesiastes Commentary > chapter 7
Is anyone completely good?
Ecclesiastes 7:27-28
Ecclesiastes 7:20 says clearly that nobody is completely good. But Solomon still searched for such a person.
He could not find that person. He says that there is only one good man among 1000 men. And there is not one good woman among them all. I think probably that both these expressions have the same meaning. True goodness in any person, whether man or woman, is extremely rare. It is so rare that it hardly seems possible for such a person to exist.
Solomon knew nobody who was perfect. But still, he chose his words carefully. He did not deny the truth that is in Godís word. If Solomon could not find a perfect person in this world, he could find that person in the Bible.
Several Psalms contain a description of a man who is completely good, for example Psalm 1, Psalm 15 and Psalm 24:3-5. We can read, of course, about many people who served God in the Bible. But the Bible often reminds us that these people were not completely good. For example, it tells us about the wrong deeds of Noah (Genesis 9:21), Abraham (Genesis 12:10-13), Moses (Numbers 20:7-12), and David (2 Samuel chapter 11).
But the Bible declares that Jesus Christ, Godís Son, is completely good (Hebrews 4:15; 1 Peter 1:19; 1 John 2:1). He is the one man whom God considers perfect.
In the end, God will make all his people perfect (Hebrews 11:40; Hebrews 12:23). This is possible because of the death of Jesus. And it has already started to happen because Godís Holy Spirit is present now in the lives of Godís people (Romans 8:1-2; Romans 8:9-11; Galatians 5:5).
Next part: Why we do wrong things (Ecclesiastes 7:29)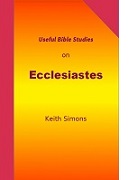 Please use the links at the top of the page to find our other articles in this series. If you find these articles useful, you will like our book, available from Amazon.
You can download our articles on several Bible books, free, from our download page (including our free 1000+ page course book).
© 2019, Keith Simons.