Useful Bible Studies > Ecclesiastes Commentary > chapter 2
Is it foolish to please yourself?
Ecclesiastes 2:4-8
In Ecclesiastes 2:4-8, Solomon tells us about some of the great things that he did for his own pleasure.
This hardly seems like a list of Solomonís evil deeds. And it hardly seems like a list of activities that achieved nothing. But to find out whether an action was good or evil, we must think about the reasons for that action. And to know whether an activity achieved anything, we must think about its results.
Solomonís first great activity during his rule was to build the house of God (called the temple) in Jerusalem. God had said that Solomon should do that (2 Samuel 7:12-13). Clearly, that had an important purpose. And Solomon was careful not to include it in this list of things that he did to please himself.
When Solomon finished the temple, he began to make his palaces, gardens and pools. At the start, perhaps even he did not realise that he was doing anything wrong. He was just doing what any other rich king would do. But in fact, he was behaving like a fool. He was serving himself instead of God. Wrong desires and selfish ambition had taken control of Solomonís life. See James 3:14-17.
So Solomon collected silver and gold. He collected wives, horses and slaves. And then everyone thought that he really was a great king. But that was not Godís opinion about Solomonís behaviour (1 Kings 11:9). In the end Solomon even chose to serve false gods (1 Kings 11:4-6).
Next part: Why do our feelings of satisfaction not last? (Ecclesiastes 2:9-11)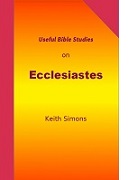 Please use the links at the top of the page to find our other articles in this series. If you find these articles useful, you will like our book, available from Amazon.
You can download our articles on several Bible books, free, from our download page (including our free 1000+ page course book).
© 2019, Keith Simons.