Useful Bible Studies > Ecclesiastes Commentary > chapter 12
The problems of old age
Ecclesiastes 12:2-5
People often speak about old age as if it is a wonderful thing. For example, we wish people a long life.
But the reality is that old age is often difficult. A person who remains strong and healthy in old age has a special reason to be grateful to God. That is not the experience of most people. We have constant troubles through our whole lives but sometimes people's problems in old age seem even worse.
The author of Ecclesiastes describes these problems in poetry, with a word-picture in every line. Usually, I explain each of the Bible's word-pictures; but I shall not do that here. This is poetry: it seems better to think about the descriptions than to describe every detail.
But the general meaning is that people's weaknesses increase in old age. And each of their senses becomes weaker. They do not see or hear well. They seem less aware of the things in this world. It is as if their many problems are preparing them to leave this world.
Everything in this world is temporary; it cannot last. Even our bodies and our homes in this world are temporary. It is only beyond death that we receive a permanent home. That home can be with God, in heaven. Or, it can be hell, which the author described in Ecclesiastes 9:4-6.
So the author urges us: remember God (Ecclesiastes 12:1). Confess your evil deeds to him, and invite him into your life. Serve him in a joyful manner, so that after death you will continue to know his joy and peace. That is the only proper way to prepare for the day when God is your judge (Ecclesiastes 12:14).
Next part: Life and death (Ecclesiastes 12:6)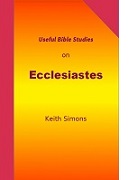 Please use the links at the top of the page to find our other articles in this series. If you find these articles useful, you will like our book, available from Amazon.
You can download our articles on several Bible books, free, from our download page (including our free 1000+ page course book).
© 2019, Keith Simons.