Useful Bible Studies > Ecclesiastes Commentary > chapter 10
Reasons not to be lazy
Ecclesiastes 10:18
The Bible often warns people not to be lazy. God has given them work to do (Psalm 104:23; Exodus 20:9). Paul told Christians that they had a duty to work (2 Thessalonians 3:6-13).
There are many reasons why some people do not want to do their work. Perhaps they have no strength because they are greedy, or drunks (see Ecclesiastes 10:17). Perhaps they imagine that they know an easier way to get their money. That idea is often a wicked scheme (Ecclesiastes 10:12-13).
Or perhaps the lazy personís work just does not interest him. He prefers to do something else; or he prefers to do nothing whatever.
Whatever the reasons may be, the results are the same.
First, the lazy person himself suffers. If a man does not repair his roof, then his own roof leaks - not someone elseís roof.
Then, his family suffers. When the roof leaks, it is a problem for everyone in the house.
Then, his possessions suffer damage. When a house is wet, the water ruins everything.
But the lazy manís troubles do not end there. Now he really must repair his roof. And he has given himself more work than he had at the beginning. He did not want to do a small repair, so now he must carry out a major repair.
If the man continues to be lazy, he will lose his house. That may seem an extreme example, but many people really have lost their homes because of lazy attitudes. And even worse things can happen too. Rulers have lost their countries because of lazy, greedy attitudes (Ecclesiastes 10:16).
Next part: Is money the answer for everything? (Ecclesiastes 10:19)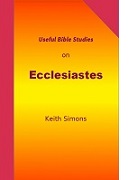 Please use the links at the top of the page to find our other articles in this series. If you find these articles useful, you will like our book, available from Amazon.
You can download our articles on several Bible books, free, from our download page (including our free 1000+ page course book).
© 2019, Keith Simons.