Useful Bible Studies > Ecclesiastes Commentary > chapter 7
The reward for patience
Ecclesiastes 7:8-10
'The end of a matter is better than its beginning.' Someone should have reminded Solomon about those words. He began his rule so well (1 Kings 3:4-14), but he ended it in a terrible manner (1 Kings 11:4-9).
Patience is essential for any task that we cannot complete immediately. Only a person who completes a task is successful in that matter. And no task is ever greater in someone's life than how that person lives his life.
We often feel a sense of pride when we begin well. But the beginning is often the easiest part, because our troubles have not started yet. There will certainly be troubles. If the task is great, then the troubles will be great too.
We need the same kind of patience that Job had during his troubles (James 5:7-11). He continued to trust God, even through the worst troubles. If we are not patient, then we will become angry. We may feel so angry that we complain against God. That is a foolish and wrong thing to do. God is good, and holy, and perfect. We must not blame him when we suffer troubles.
The wise person does not ask why the beginning of his task was so much easier. He intends, with God's help, to complete his task, whatever the problems may be. And he wants to complete it in a manner that pleases God. That desire gives him the patience to continue the work during difficulties and troubles.
When the task is to serve God, there is a great reward for our patience (Hebrews 10:35-36).
Next part: The best gift for your children (Ecclesiastes 7:11-12)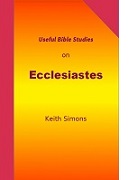 Please use the links at the top of the page to find our other articles in this series. If you find these articles useful, you will like our book, available from Amazon.
You can download our articles on several Bible books, free, from our download page (including our free 1000+ page course book).
© 2019, Keith Simons.