Useful Bible Studies > Ecclesiastes Commentary > chapter 7
Serious thoughts
Ecclesiastes 7:3-4
Many people are constantly trying to make themselves happy. They say that the purpose of life is to be happy. The author of Ecclesiastes believed that such people are foolish. They have allowed their emotions to rule their lives.
A person who wants to be wise must have a different attitude. A wise person does the things that are right and proper for him to do. He chooses to be serious, because peopleís lives are difficult. He chooses to be careful, because his thoughts must be sensible.
Happiness is not, of course, evil, but the desire for happiness causes people to do many evil and stupid things. Nobody likes to be sad. But until we are sorry about our evil deeds, we will not ask God to forgive us. Until we desire a complete change in our lives, we will not invite God into our lives. Sad feelings bring about serious thoughts. And when these thoughts are right and proper, they can achieve good results.
So it is not the happy parties that are wrong. It is the attitude of people at those parties. That is why Jesus chose to be present at such events. He ate with people who were guilty of many wrong and evil deeds. But Jesus did not join in their foolish laughter. He went there to help people who needed Godís help. He spoke serious words there about how God wanted to rule those peopleís lives. And all his words were wise (Matthew 11:19; Mark 2:15-17).
When we have known sad feelings, then we can know the greatness of Godís comfort (Matthew 5:4).
Next part: Foolish songs and laughter (Ecclesiastes 7:5-6)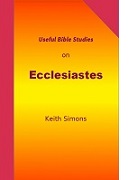 Please use the links at the top of the page to find our other articles in this series. If you find these articles useful, you will like our book, available from Amazon.
You can download our articles on several Bible books, free, from our download page (including our free 1000+ page course book).
© 2019, Keith Simons.