Useful Bible Studies > Ecclesiastes Commentary > chapter 3
Time and eternity
Ecclesiastes 3:9-15
Ecclesiastes 3:2-8 contains a long list of activities which can happen either at the right time, or at a wrong time. God has arranged a right time for all these activities. And people should study to know what is the right time.
When such things happen at the right time, they are beautiful. The harvest is beautiful, but the farmer must gather it at the right time. Even death can seem right when a person has completed his lifeís work (for example Numbers 20:22-29; Luke 2:25-32). Even war can seem right if it is necessary to save people from a cruel enemy.
At the right time, things are beautiful. But God has shown people something that is even more wonderful than time. It is eternity. Eternity describes a time that can never end. It lasts always, even as God himself is always the same (Hebrews 13:8). We can think about eternity, but we struggle to imagine it.
All the things that God does seem too wonderful for us. Everything that he does lasts always. Our words last for a moment; Godís word never changes (Psalm 119:89). When God saves a person, he saves that person for eternity (John 3:16). His promises are always true, through all centuries (Luke 1:48-55). He knows the past, the present and the future.
But the work that people do lasts only for a moment. The things that they achieve are never really permanent. So, they need Godís Holy Spirit to guide them (John 3:8; John 4:24). Without the Holy Spirit, they cannot understand Godís thoughts (1 Corinthians 2:9-16). But with the Holy Spirit, people do not just work for the present time. They prepare for their eternity with God (Hebrews 11:13-16).
Next part: God is the perfect judge (Ecclesiastes 3:16-17)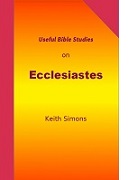 Please use the links at the top of the page to find our other articles in this series. If you find these articles useful, you will like our book, available from Amazon.
You can download our articles on several Bible books, free, from our download page (including our free 1000+ page course book).
© 2019, Keith Simons.