Useful Bible Studies > Ecclesiastes Commentary > chapter 2
Without God, can anyone have a good life?
Ecclesiastes 2:22-26
Usually, a personís daily tasks are hard. People do not even receive a proper reward or payment for their efforts. That is the nature of life in this world. We cannot really expect anything else. What happens in this world is not usually fair, right or good.
But sometimes, for some people, life does not seem so hard. Their work feels pleasant, and they feel content. They begin to enjoy their lives.
God has been especially kind to those people, and they should be very grateful to him. All good things come from God (James 1:17). But those people should not imagine that their happiness will continue for their whole lives. They must still be loyal to God, even when their time of happiness ends. God deserves honour whatever the state of our lives may be.
Job was a man who had a very pleasant life (Job 29:1-6). Job 1:10 gives the reason. Job was Godís servant, and God was protecting him.
But then Satan (the devil) wanted to test Job, and God allowed it. So Job suffered much. The purpose of the test was to see whether Job would still give honour to God.
Job proved that he really was loyal to God. Job praised God even when he was suffering most. He did not serve God just because God was kind to him. He served God because God deserves honour.
After Jobís troubles, God showed special kindness to him again (Job 42:10-17).
We cannot earn Godís kindness, and we cannot obtain it by human effort. It is Godís gift; it is not a payment or a reward.
Next part: A time for everything (Ecclesiastes 3:1-8)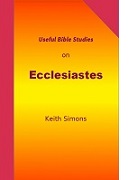 Please use the links at the top of the page to find our other articles in this series. If you find these articles useful, you will like our book, available from Amazon.
You can download our articles on several Bible books, free, from our download page (including our free 1000+ page course book).
© 2019, Keith Simons.