Useful Bible Studies > Colossians Commentary > chapter 1
The author: Paul the apostle
Colossians 1:1
At the time of Paul, it was usual to begin a letter with the name of its sender. So, Paul begins this, his letter to the Christians in Colosse, with his own name.
Paul describes himself as an 'apostle'. Originally, an apostle meant a servant whose master has sent him to carry out an important task. Paul's master was Christ, and Paul's work was to declare the gospel (the message about Christ). Especially, God sent Paul to declare that message to the Gentiles (people who do not belong to Israel) – Galatians 1:16.
Paul did not appoint himself to do that work. The leaders of the church at Antioch had separated Paul (then called Saul) and they originally sent him (Acts 13:1-3). However, they did not choose Paul to be an apostle. It was God himself who chose Paul to do that work (Acts 9:15).
In some of Paul's letters (2 Corinthians, Philippians, 1 Thessalonians and 2 Thessalonians), Paul includes Timothy's name with his own. We cannot say whether Timothy actually wrote any part of those letters; rather, he joined with Paul to send those letters. Paul and Timothy worked especially closely together; sometimes Timothy travelled to places where Paul could not go. In 1 Corinthians 4:17, Paul seems to compare their working relationship to the way that a father works with his son. However, in Colossians 1:1, Paul describes Timothy simply as 'the brother'. It was usual for Christians to refer to each other as their 'brothers' and 'sisters'. All true Christians are brothers and sisters in God's family (Mark 3:31-35).
Next part: The Christians in Colosse (Colossians 1:2)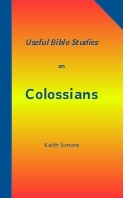 Please use the links at the top of the page to find our other articles on Colossians. You can buy all 80 studies in a paperback book from Amazon.
You can download our articles on several Bible books, free, from our download page (including our free 1000+ page course book).
© 2019, Keith Simons.