Useful Bible Studies > Colossians Commentary > chapter 1
The Christians in Colosse
Colossians 1:2
'Colossians' means the inhabitants of Colosse, an ancient city that was about 100 miles (160 kilometres) from Ephesus. Today these places are in Turkey.
Paul's letter was to the Christians there. He describes them as 'holy and faithful' people. The word 'holy' (or, in some translations, 'saints') means that they belong to God. God has separated them for himself, to be his own people. All true Christians are God's holy people (1 Peter 2:9).
The word 'faithful' means that they are loyal to God. However, Paul's word in the original language (Greek) also has a second meaning. It means that they have faith (belief and trust in God). The first Christians liked to bring those two meanings together (Hebrews 10:36 to 11:2). People with true faith must be constant in that faith. In other words, they must remain loyal to God in the way that they continue to trust him. Especially, they need to be faithful in the way that they trust God through their problems and difficulties.
Paul did not write the letters in the Bible for his own private purposes. Rather, he wrote on God's behalf, to declare the messages that God had given him for the Christians in various churches. So, it seemed right for him, at the start of his letters, to bless those Christians. In other words, on God's behalf, Paul declared that God's grace and peace were in their lives. That is like the way that God told Israel's priests to bless the people (Numbers 6:22-27).
God's 'grace' means his great kindness. God's people very much need that grace to live and to work for God in this world (2 Corinthians 12:9). God's 'peace' means the calm and content attitude that comes from a right relationship with God. Because God's peace is in their hearts, God's people can trust him in every situation (Philippians 4:6-7 and 4:11-13).
Next part: Paul thanks God for the faith and love of Christians (Colossians 1:3-4)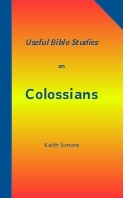 Please use the links at the top of the page to find our other articles on Colossians. You can buy all 80 studies in a paperback book from Amazon.
You can download our articles on several Bible books, free, from our download page (including our free 1000+ page course book).
© 2019, Keith Simons.