Useful Bible Studies > Colossians Commentary > chapter 1
Paul thanks God for the faith and love of Christians
Colossians 1:3-4
Our prayers should not only be lists of requests. Rather, we should always remember to thank God for his goodness (Psalm 136:1-3).
So, when Paul prayed for the Christians at Colosse, he also gave thanks to God. Paul thanked God for the wonderful way that he (God) was working in their lives. In particular, he thanked God because of the reports that he had heard about their faith and love. These are not merely human qualities – they are the result of God's work, by the power of his Holy Spirit, in the lives of his people (Galatians 5:22-23; Ephesians 2:8).
Faith means belief and trust in God. Without faith, it is impossible to please God (Hebrews 11:6). A person can only receive a right relationship with God by faith (Romans chapter 4). In other words, God gives that person the power to believe and to trust him. That is how a person becomes a Christian. From then on, that person must continue to believe and to trust God (Galatians 3:1-5). That was what the Christians in Colosse were doing. They continued to trust God, and their faith had become stronger. Even Paul, who was then a prisoner in Rome, had heard about their faith.
Love for other people, and especially for other Christians, is clear evidence that someone is a true Christian (Mark 12:31; John 13:34-35; 1 John 4:7-21). Many people today use the word 'love' to mean a strong desire for someone that is mere emotion. In the Bible however, love for someone is the sincere decision to help that person (1 Corinthians chapter 13). It is the attitude that causes Christians to look after other people, and not to satisfy their own desires. With that attitude, Christians often choose to help people whom they do not even know (Hebrews 13:1-2).
Next part: The hope that Christians have (Colossians 1:5)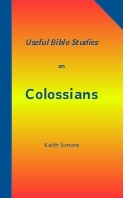 Please use the links at the top of the page to find our other articles on Colossians. You can buy all 80 studies in a paperback book from Amazon.
You can download our articles on several Bible books, free, from our download page (including our free 1000+ page course book).
© 2019, Keith Simons.