Useful Bible Studies > Colossians Commentary > chapter 1
The hope that Christians have
Colossians 1:5
As Paul thanked God for the faith (trust in God) and love of Colosse's Christians (verse 4), so he thanked God because of their hope. Their faith and love were clear to other people, so that reports had even reached Paul in Rome. However, hope is not always so easy for other people to recognise. Paul compared it to a precious object that someone had hidden away. Their hope was in heaven, so it was both safe and certain (Hebrews 6:19). They expected God to do good things for them, and he would not disappoint them (Romans 8:18; 1 Corinthians 2:9).
Paul knew about their hope because God's message about Christ, the gospel, brings hope to people. That hope is not something uncertain, like the things that seem to offer hope in this world. Rather, the hope of the gospel depends on the promises of God, who cannot lie. For example, because of Christ's death, God promises to forgive everyone who puts their trust in Christ (Romans 10:9-13). He promises to save (rescue) them from the devil and from death (Hebrews 2:14-15). He promises that they will always live with him in heaven and the New Jerusalem (John 14:1-6; Revelation 21:1-7).
God's character is perfect (Exodus 34:6-7). He never changes (Hebrews 13:8; James 1:17). Nothing can ever defeat the plans that he has made in love for his people (Romans 8:31-39). The work that God has begun in their lives, he will certainly complete (Philippians 1:6).
Christians must not be proud, but rather, they should be grateful. They did nothing to deserve the great hope that God has placed in their lives. Rather, this is God's kindness to them, which he has shown to them because of his wonderful character.
Next part: The gospel is spreading across the world (Colossians 1:6)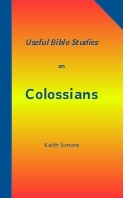 Please use the links at the top of the page to find our other articles on Colossians. You can buy all 80 studies in a paperback book from Amazon.
You can download our articles on several Bible books, free, from our download page (including our free 1000+ page course book).
© 2019, Keith Simons.