Useful Bible Studies > Colossians Commentary > chapter 1
Christ in you, the hope of glory
Colossians 1:27
We may ask what makes a Christian's experience of God special. Similarly, we may ask how this differs from the experiences of other people.
To answer these questions, Paul refers both to an experience at the present time, and a reality for the future. The present experience is 'Christ in you'; the future reality is 'Christ… the hope of glory'. He calls these facts a 'mystery'; in other words, something that people did not fully understand in former ages. However, now God has permitted people from every nation to know these things; and they (these facts) are very wonderful.
So, Christ is present now in the life of every person who truly puts their trust in him (Ephesians 3:17). He leads and guides them by his Holy Spirit (Romans 8:9; Galatians 5:16 and 5:18). From him, they receive the strength that they need in their troubles (2 Corinthians 12:9-10). They are even called God's temple (1 Corinthians 6:19). The temple was God's house in this world. See John 14:20 and 14:23 (also, see 2 Corinthians 4:6-7).
However, that is just the beginning of what God is doing in their lives (Philippians 1:6). Paul describes God's future plans for them as 'the glory', which means 'splendid beauty'. That glory is so wonderful that we cannot even compare our present lives, with their many troubles, with it (Romans 8:18; 2 Corinthians 4:17). It is beyond anything that we can imagine (1 Corinthians 2:9); however, we can learn something about it from the wonderful descriptions in Revelation chapters 21 and 22. This hope of heaven and the New Jerusalem is not something uncertain. It does not depend on people; it depends on Christ, and on God's promises, which are certain. Christians do not have the 'hope of glory' in themselves – their hope comes only from their relationship with Christ. It is Christ who brings about God's promises to them (2 Corinthians 1:19-22). It is Christ who will bring them into his glory (3:4).
Next part: The most important work for a church leader (Colossians 1:28)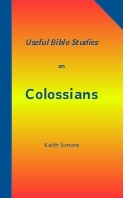 Please use the links at the top of the page to find our other articles on Colossians. You can buy all 80 studies in a paperback book from Amazon.
You can download our articles on several Bible books, free, from our download page (including our free 1000+ page course book).
© 2019, Keith Simons.