Useful Bible Studies > Colossians Commentary > chapter 1
Christ is fully God
Colossians 1:19
Sometimes Christians speak as if God, the Father, Son and Holy Spirit, are separate from each other. That, however, is not correct. In his prayer in John 17:21, Christ says that the Father is in him. In addition, John 3:34 tells us that Christ has received the Holy Spirit, with no limit whatever.
So when we invite Christ into our life (Revelation 3:20), we also invite the Father and the Spirit to live in us (John 14:23; 1 Corinthians 6:19). As we allow Christ to guide our lives (John 10:10), so do the Father and the Spirit (Psalm 23:1; Romans 8:1-5; Galatians 5:16). However, we do not have three masters (see Matthew 6:24), but one (John 10:16). There is one God (Deuteronomy 6:4).
God can also fill his people with his Spirit (for example Luke 1:41). However, for them, there is a limit. Often that limit is their own weakness: they can become too afraid to allow God's Holy Spirit to be active in their lives (Galatians 3:1-5). However, even without that problem, there is still a limit to how much of God we can contain (compare 2 Chronicles 6:18). We can receive so much of God's goodness that we cannot contain it (Psalm 23:5) – but still, there is so much more.
In Christ alone there is no limit, because Christ is fully God. Paul will repeat this statement in Colossians 2:9, but here he adds an interesting detail. God was 'pleased' to live fully in Christ. Christ is the Son with whom the Father is truly pleased (Mark 1:11).
Next part: Peace through Christ's death on the cross (Colossians 1:20)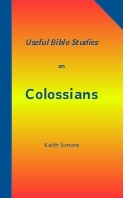 Please use the links at the top of the page to find our other articles on Colossians. You can buy all 80 studies in a paperback book from Amazon.
You can download our articles on several Bible books, free, from our download page (including our free 1000+ page course book).
© 2019, Keith Simons.