Useful Bible Studies > Colossians Commentary > chapter 1
Peace through Christ's death on the cross
Colossians 1:20
In Paul's letters, 'peace' often means a right relationship between God and people. They love and respect him as their God; he loves and cares for them as his special people.
That should be the natural state of people in this world – however, by our evil deeds, we have made ourselves into God's enemies (1:21). We are all guilty (Romans 3:23); God's anger is rightly against us (Romans 1:18).
That is why Christ's death on the cross is so important. We are guilty of many wrong and evil acts, and we deserved no kindness from God. However, at his death, Christ suffered the punishment that we deserve (Romans 5:8). It is God's work to give us a right relationship with himself – we cannot do it by our own efforts (Ephesians 2:8-9). We only need to turn from our evil deeds and to put our trust in him (Acts 3:19; Romans 4:1-8). God is eager to forgive us and to accept us as his friends (Ezekiel 18:21-23; Revelation 3:20).
God offers no peace, however, for those who choose to continue in their wicked behaviour (Isaiah 57:21). Unless they will turn from their evil deeds, they gain nothing from God's message of peace. Rather the gospel (God's message about Christ) becomes a message of judgement against them (2 Corinthians 2:14-16).
We have spoken about peace as a personal matter – however, Revelation 12:7 tells us about war in heaven, between God and the devil. That war continues today in the spirit world (Ephesians 6:12). In the end, God will establish Christ's rule over all things (Philippians 2:8-10). So in the end, God's 'peace' means the complete and final defeat of the devil (Revelation 20:10) and every evil spirit. Hebrews 2:14 tells us that Christ has achieved that also by his death. Christ's death, which can bring us peace with God now, will also bring about his rule of perfect peace over all things (Isaiah 11:1-9; Revelation chapter 21).
Next part: Enemies of God can become his friends (Colossians 1:21)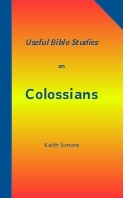 Please use the links at the top of the page to find our other articles on Colossians. You can buy all 80 studies in a paperback book from Amazon.
You can download our articles on several Bible books, free, from our download page (including our free 1000+ page course book).
© 2019, Keith Simons.