Useful Bible Studies > Colossians Commentary > chapter 4
Paul requests prayer for an opportunity to declare the gospel
Colossians 4:3
Acts 5:17-25 tells about an occasion when the apostles (the first Christian leaders) were in prison. Then God sent an angel (special servant of God) to open the doors of the prison, so that they could declare God's message publicly.
Here in Colossians 4:3, Paul was a prisoner. He requested prayer for God to 'open a door' so that he (Paul) could continue to declare God's message. However, Paul did not mean an actual, physical door. Paul knew that, even as a prisoner, he could still declare God's message (Acts chapter 28; Philippians 1:12-14). Rather, Paul was requesting prayer for another opportunity to declare God's message, perhaps to many people. He used a similar phrase in 1 Corinthians 16:8-9, when God gave him a wonderful opportunity to declare God's message in Ephesus (see Acts 19:8-20). Paul cared little about his own personal freedom (2 Corinthians 12:10; Philippians 4:11-13); he only desired the freedom to declare God's message.
Paul here calls the gospel (God's message about Christ) 'the mystery of Christ'. A message is only a mystery to those people who have not yet heard it. However, now God had sent his workers, including Paul, into the world to bring this message to everyone (1:25-29). So, Paul was praying in particular for opportunities to declare the gospel to people who had never heard it. In Romans 15:20-21, Paul describes that as his ambition. God had given Paul that desire, but Paul needed prayer for opportunities to carry it out.
Next part: Prayer so that we can declare the gospel properly (Colossians 4:4)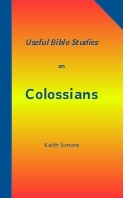 Please use the links at the top of the page to find our other articles on Colossians. You can buy all 80 studies in a paperback book from Amazon.
You can download our articles on several Bible books, free, from our download page (including our free 1000+ page course book).
© 2019, Keith Simons.