Useful Bible Studies > Colossians Commentary > chapter 4
Prayer: the duty of every Christian
Colossians 4:2
Paul urges Christians, not just to pray, but to continue in prayer. In other words, he is speaking about prayers that last for a long time.
He may be thinking about special church meetings for prayer, because his next instruction is to 'watch'. The word really means to 'stay awake'; it is the same word that appears in Mark 13:35-37. Acts 12:12 mentions a prayer meeting that continued through the night (see Acts 12:6). In Mark 1:35, 6:46-47 and 14:32-37, Christ prayed by night; and so did Paul and Silas in Acts 16:25.
However, the Bible urges Christians to pray constantly (1 Thessalonians 5:17), and not just at church. It compares the terrible state of our world, and people's evil acts in it, to the darkness of the night (1 Thessalonians 5:1-8). So, in their acts of prayer and words to declare God's truth, Christians are like people who watch through the night (Ezekiel 33:1-7). It is so important that Christians do not become lazy. The day when Christ will return will come soon (2 Peter 3:10-13). Of course sleep is good (Psalm 127:2); God wants people to rest at the right times (for example, Exodus 19:8-11). However, there are many dangers for Christians who do not pray (1 Peter 5:8). So, they must never allow their rest to become an excuse for lazy and foolish attitudes (Proverbs 24:30-34). Instead, they must pray with the help of God's Holy Spirit (Ephesians 6:18); and they must trust God to keep them safe from the devil's attack (Ephesians 6:10-18).
The thought of those dangers could make Christians afraid during prayer. However, God does not want his people to be afraid, but rather to be thankful. He is the great God, who works powerfully in the lives of his people (Romans 8:28). They have every reason, therefore, to give thanks to him.
Next part: Paul requests prayer for an opportunity to declare the gospel (Colossians 4:3)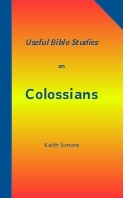 Please use the links at the top of the page to find our other articles on Colossians. You can buy all 80 studies in a paperback book from Amazon.
You can download our articles on several Bible books, free, from our download page (including our free 1000+ page course book).
© 2019, Keith Simons.