Useful Bible Studies > Ecclesiastes Commentary > Study Guide
A summary of each chapter in the Book of Ecclesiastes
Chapter 1:
There are powerful forces in this world, but even the greatest people are really very weak.
Chapter 2:
Work, wealth and pleasure cannot satisfy people.
Chapter 3:
God makes everything beautiful at the proper time.
Chapter 4:
Peopleís efforts are often without any real purpose.
Chapter 5:
Respect God, and do not love money.
Chapter 6:
Success in life does not satisfy a personís real needs.
Chapter 7:
As people are guilty of many wrong and evil deeds, they must think about their lives seriously.
Chapter 8:
The process of judgements in this world does not give a good life to everyone.
Chapter 9:
The same kinds of events happen in everybodyís lives, but people should still desire wisdom.
Chapter 10:
Foolish desires and lazy attitudes cause serious troubles.
Chapter 11:
Most people are not preparing in a sensible manner for the day when God will be their judge.
Chapter 12:
Only a right relationship with God can prepare you for old age, death, and the judgement of God.
Next part: Why the Book of Ecclesiastes is so important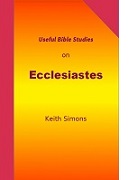 Please use the links at the top of the page to find our other articles in this series. If you find these articles useful, you will like our book, available from Amazon.
You can download our articles on several Bible books, free, from our download page (including our free 1000+ page course book).
© 2019, Keith Simons.