Useful Bible Studies > Ecclesiastes Commentary > chapter 12
Remember God, who created you
Ecclesiastes 12:1
Ecclesiastes 12:1-8 is one of the most beautiful poems in the Bible. Its subject is very sad, however. It describes how a young person becomes old. And in the end, of course, that person dies (Ecclesiastes 12:7)
The purpose of that poem is to teach the lesson that it repeats in Ecclesiastes 12:1 and Ecclesiastes 12:6. People should remember God before they are too old to appreciate his goodness (Ecclesiastes 12:1). Or certainly, they must remember him before the day of their death (Ecclesiastes 12:6).
By the word 'remember', the poem does not mean just to think about God. He created us, so he should be constantly in our thoughts. He deserves our love and our thanks. All that we have comes from him. So when we 'remember' him, it should affect our entire lives.
The author of Ecclesiastes urges people not to delay. He repeats and emphasises that message. The proper time to remember God is now. Then you can remain grateful to him for the rest of your life.
Troubles will certainly happen to you in the future. There will be occasions when life seems to bring no pleasure. It would be terrible if these troubles caused you to forget God or to neglect your relationship with him.
Because of illness or weakness, people are sometimes not aware of God's goodness to them. So if you are young or strong, remember God's kindness now! Give your life to him; use your strength to serve him.
But if you are neither young nor strong, you still have a duty to serve God (Ecclesiastes 12:13). Love God with your whole heart and trust him completely. He created you; he loves and cares for you.
Next part: The problems of old age (Ecclesiastes 12:2-5)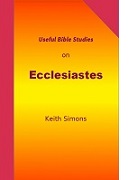 Please use the links at the top of the page to find our other articles in this series. If you find these articles useful, you will like our book, available from Amazon.
You can download our articles on several Bible books, free, from our download page (including our free 1000+ page course book).
© 2019, Keith Simons.